Get Involved - Activity packages
Donate to Document Freedom
Keep posters printing, politicans being contacted, and awards being presented by donating to Document Freedom Day.
Activities
Spread the word and let them know about Document Freedom Day
Get some posters, leaflets and stickers delivered to you, put them up and spread them. Or download them and print it on your own - or be creative and make your own posters.
What you can do
In the time before Document Freedom Day: Install your posters, take a picture of it, put leaflets and stickers on a visible place
On Document Freedom Day: publish the picture using the tags #DFD2014 and #ICannotReadYourDocuments
On DFD or before: send us your picture and we might spread it via DFD's identica account or put it into our report
Get some press attention! Check our guide for successful media relations
Reach out to the public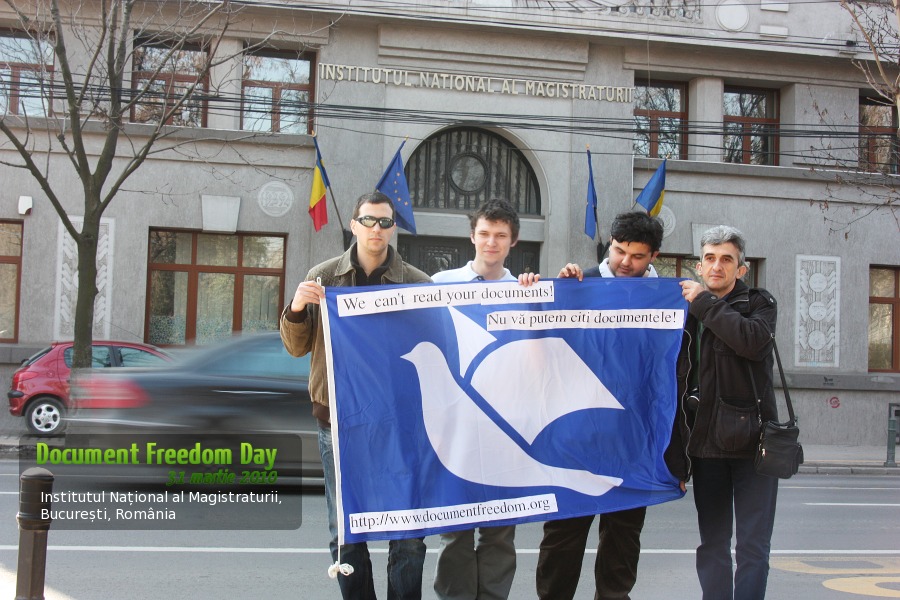 Do you want your government and public bodies to use Free Software and Open Standards? Then go there and inform them about it. Order a poster or do your own and write a note to the office, e.g. "I cannot read your documents". Then take a picture of them with the sign in front of a public institution and publish the picture.
What you need
Materials:
creativity
a photo camera
DFD Artwork
paper
Timeline:
2 weeks before - do some research about public administrations in your city, e.g. what software they are using, how they comunicate on public and if they are effective enough
1 week before - prepare your poster
few days before - take the picture
On Document Freedom Day - publish the picture using the tags #DFD2014, #ICannotReadYourDocuments and try to get some press attention
Promote open formats in public libraries
Librarians should be easy to convince about the usefulness of Open Standards. Then you can put leaflets in the library or be there yourself and inform visitors about the importance of Open Standards. For example, you can use an old book and ask them if they would like to have the possibility to read this book in an electronic format on any device - even in 10 years. Try to be creative and use questions that force others to think about the problem.
Materials:
DFD Artwork
DFD leaflets
List of good phrases and questions
Timeline:
2 weeks before - find a public library, talk with them about the topic and ask them if you can leave some leaflets there and talk with their visitors
1 week before - print leaflets and find friends to help you
On Document Freedom Day - use your creativity and inspiration to explain people why open document formats are important. Try to get the people to think about Open Standards and get some press attention.
Give an award
If there is an organisation, a public body or a company that you think of a good example in the field of open standards, you can recognize their effort and support their activities by giving them an award. You should award them for using Open Standards, not for using Free Software (using both is the best of course, but DFD concentrates on Open Standards). Our experience has shown that you get the best out of such an event if you award a radio station, news agency, television broadcast or something alike that publishes in Open Standards. The benefit: They will tell in their own show/medium that they received a Document Freedom award, so you can be sure that you reach a large audience with your message and your event.
Materials:
T-Shirts
Cake
Certificate
Timeline:
few weeks before - contact the awarded organisation or company
1 weeks before - write a press release (example)
some days before - print out the certificate
a day before - organise a big cake
On Document Freedom Day - go there and give them them all the stuff
On Document Freedom Day - make some cool pictures, publish them using the tag #DFD2014 and send them to us and try to get some press attention.
Give a presentation
Give a public presentation about Open Standards or try to initiate one by inviting speakers and well-known persons to talk about open standards.
Materials:
Timeline:
3 weeks before - be sure you have a room/place for your presentation
2 weeks before - start promotion that you will give a presentation, try toget some press attention.
On Document Freedom Day - give your presentation
Cut and colour paper doves
This is a fun and creative task for all ages. It can be run alone or alongside a talk or other activity. To take part, simply print the dove (preferably onto card) and follow the instructions. The last instruction is to share - this is where you can get really creative.
DFD is all about unbounded sharing, so label your dove with an Open Standard (ODF, SVG, OGG, etc) and see how far you can make your doves fly! You could photograph them at a monument in your city and send the photos through social media (#DFD2014), you could post the doves to somewhere hard to reach, you could hide them somewhere for strangers to find – the possibilities are only limited by your imagination! Send pictures of your dove's adventures to contact@documentfreedom.org.
Materials:
A4 Card
Scissors
Glue
Cutting mat for scoring
Create street art
There are endless ways for street art to promote Open Standards. Think about daily examples of closed/or open standards - funny or shocking ones - that could be portrayed on the street, and than go for it! Street art does not require a lot of kit, just your imagination. Afterward, take picture of what you just have created and send it to us, so we can promote your artwork around the world. And who knows, maybe you inspire other artists and remixes and your art could become viral.
Street art can have the form of anything interesting and legal, for example installation of unexpected items, paintings of moss graffiti slogans ("I cannot read your documents"), woolen graffiti and much more ...
Materials:
creativity
good spot on the street
a photo camera
Timeline:
several weeks before - think of the art work
1 week before - prepare your street art
few days before - install or create your street art and take a picture of it
On Document Freedom Day - publish the picture using the tag #DFD2014
Change your email signature
Ask people to change their e-mail signature for DFD.
Example
Document Freedom Day - Liberate your documents
http://documentfreedom.org/ - 26 March 2014
Timeline:
be sure that before Document Freedom Day, you change your email signature
Help us create posters
Help us produce some catchy posters that depict negative effects that the use of closed standards can have on peoples daily lives. For example, this could be a picture of a grandmother crying because she cannot read her diary that was written in the former .docx format - or anything you can imagine. Of course, you can also produce a poster that shows the positive effects of the use of Open Standards. Feel free to be creative! Finally, the picture shall be accompanied with some appropriate slogan, such as "In the future, would you be able to read your documents?", and maybe a brief text, that explains the importance of Open Standards.
Materials:
interesting picture
Free Software to improve your picture and put a message on it
Timeline:
anytime until 22nd of March - send us your suggestions or drafts
Make some DFD Cupcakes
Food can be a great way to celebrate DFD – and what better food than cupcakes? Email us to get some edible DFD logos, or get your own printed using the ready-made art work here. Then you will need cake and icing. If you want to try baking, then there is a recipe for both here. If you would rather buy ready made cakes, then try buying the cakes and the icing/frosting separately, and icing them yourself – they will look fab! Either way, here is how to assemble them.
Don't forget to tweet, 'dent, 'spore and send us a photo! #DFD2014
Website translations and improvements
DFD is a global campaign. To help us make it a worldwide success, please read how to contribute your own translations and website improvements.
Get expenses refunded
If you spend money running an event or awarding a prize for Document Freedom Day, funding is available to help cover the cost. See the funding expenses page for details.